SATURDAY...
The Urban Nerds are back with another Carnival Special, following on from the success of last year's Notting Hill warm-up party and a one-off EXTRA late license to PARTY!!!
Urban Nerds always throw great party's with good vibes and great tunes! They're also bringing back the steel drum BBQs!
Jerk Chicken, Curry Goat, Rice and Peas and all your favorites will be on sale to get you in the Carnival mood!
+++GRAFFITI DISPLAYS FROM ONE TRICK PONY COLLECTIVE+++
DUBSTEP | REGGAE | JUNGLE | DANCEHALL | SKA | DUB | DRUM AND BASS | OLD SKOOL GARAGE AND MORE!
12:00PM - 4:00AM
FREE BEFORE 8PM, £8 AFTER!
SUNDAY...Ain't It Black
present
Carnival Funk
, bringing back house party vibes with dance lines, power moves, booty bumps and soul trains.
Expect to hear electro basses, 80's funk, Synthesizers, Techno Hop and some serious Soul!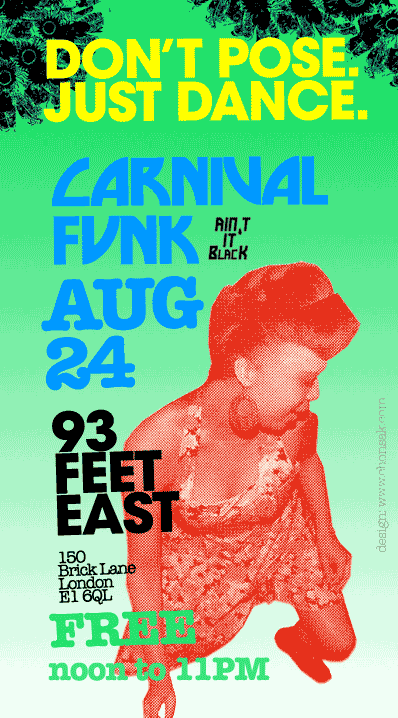 The policy is simple...Don't pose. Just dance!